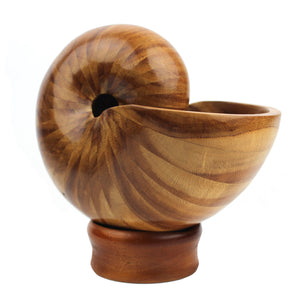 Wood Snail
Ariel and Patricia Duboué. Wood Snail Design. Cordoba, Argentina. Medium: Silky Oak.
Weight: 1.6 lbs., height: 9 in., length: 6 1/2 in., width: 9 in.
Ariel Duboué is a self-taught woodworker. He works alongside his wife, Patricia, in their workshop in the small town of Rio Ceballos in the province of Cordoba, Argentina. Ariel studied architecture and soon after-was attracted to working with wood. He learned by reading books from which he developed a special liking for the intarsia (taracea) technique, a form of wood inlaying that was created in the Arab world, then brought to Spain and from there to the Americas. Ariel learned this millenary technique and made more contemporary designs. He is now one of the most recognized artisans in Argentina, having won several recognitions. Ariel and Patricia promote their work under their brand, Rubrica.
---
We Also Recommend