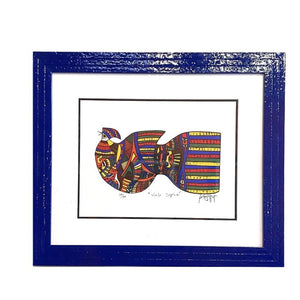 Sacred Flight
Fernando Llort. Sacred Flight. San Salvador. El Salvador. Technique: Lithography.
Size: 22 x 26 inches. With blue frame and plexiglass on front. 
Llort was born in San Salvador in 1949 and died in La Palma in 2018. Renowned Salvadoran artist in the areas of puncture, drawing, ceramics and sculptures. In 1997, he designed a mural for the Metropolitan Cathedral which he called La Armonia de mi Pueblo, which was made up of 3,000 tiles and took one year to complete.
Fernando's art is heavily influenced by the Mayan culture, and has been able to mix modern ideas with a naive style of drawing. He uses mixed techniques and materials, from paintings to wood, ceramic, and lately even glass.
---
We Also Recommend