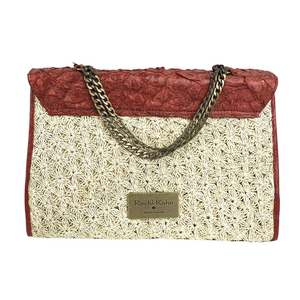 Leather Red and Beige Purse
Rochi Kahn. Leather Red and Beige Purse. Lima, Peru. Height: 9 in., length:13 in. width: 5 in.
Rochi Kahns designs are inspired and worked in a context of history, tradition and style. The handbags enclose a concept of unique piece that implies the elaboration of their designs, the election of the materials and the work done on each. All and each details are made by hand. Rochi Kahn distinguish between her compositions the unusual, unexpected and unrepeatable leather, fabrics and natural bars combinations that generates an experience of textures in each design beside the accessories chosen from Latin American and Europe. What highlights in the handbags is the artisans expertise, 100% Peruvian, using not only intervention of alpaca, wool and cotton strand embroidery but also crystals and gemstones made for a nal armed in each piece. Total passion, deployment of creativity, skill and time to make each design a protagonist.
---
We Also Recommend