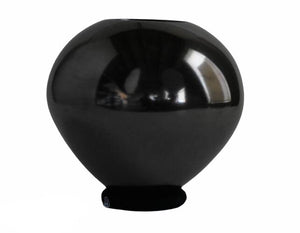 Ruben Lozano Black Gloss Bowl #2
Ruben Lozano. Black Gloss Bowl #2. Mata Ortiz, Chihuahua, Mexico. Weight: 2.8 lbs., Height: 8.5 inch., Width: 8.5 inch.
Ruben Lozano Lucero produces black pottery that is so highly polished that is as reflective as a mirror. His gunmetal finish is famous worldwide. The quality of his work is attested to by the First Prize Black Polished Pot in National Exhibition of Folk Art. The award was handed to him President Salinas of Mexico himself. Ruben makes pottery that is ideal for collecting or decorating.
---
We Also Recommend