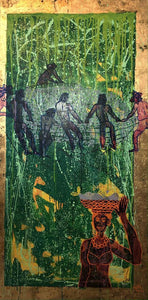 Fishmongers 1
Hugo Velez. Fishmongers I. Oaxaca, Mexico. Size: 79 x 39 1/2 in. Technique: Oil /mahogany wood. 
Hugo went to Oaxaca and took a course at the "Rufino Tamayo" Workshop. This was when he decided on becoming an artist. As an independent visual artist, painter and generator of plastic projects, he has participated in 140 exhibitions abroad such as the United States, Spain and Argentina. He also exhibits 17 individual exhibitions in Córdoba, Spain, Lisbon and Portugal, one of the last in Mexico City. He works as an urban muralist in the city of Oaxaca. He further designs sets, lights and costumes for theater and dance.
He also works as a temporary teacher of plastic composition at the Faculty of the School of Fine Arts, dependent on the UABJO. Vélez is always in search of the movement of human bodies which inspire the subject of many of his paintings, sculptures and engravings.
---
We Also Recommend