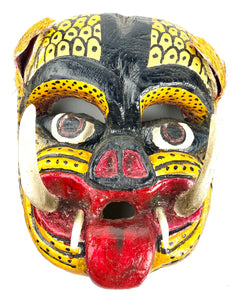 Jaguar Mask (Medium)
Miguel Angel. Jaguar Mask (Medium). Costa Chica, Guerrero, Mexico.
Size: 10 x 7 1/2 inches. 
The Dance of the Devils is a ritual dedicated to the Black God Ruja, whom they honored and asked for help to free themselves from his harsh working conditions, that is why at the beginning of the dance he is invoked with respect and reverence. In addition, during the dance, they very often pronounce the word Urra! In chorus; that he is also a benevolent God and protector of black people and they use it as a kind of mantra. Currently the concept of adoration of the God Ruja has been replaced by the veneration of the dead, which is why it is danced only in All Saints, on November 1st and 2nd; and it is customary that the dancers go through the houses where there are altars of the dead and where people dance, eat and drink liquors. As a symbol or incarnation of the dead who are present during these days, blacks and mestizos disguised as devils appear in the cemetery since October 31.
---
We Also Recommend