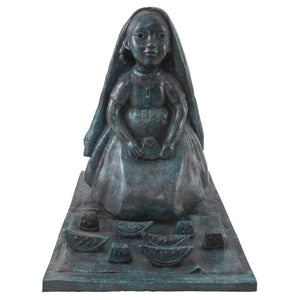 Girl with Watermelon
Gustavo Montoya. Watermelon, from the Collection of Mexican Children - (Sandias, de la Colección de Niños Mexicanos). Serie 2/9. CDMX, Mexico. Signed 2000. Technique: Bronce Sculpture. Weight: 65 lbs., height: 21 in., length: 21 in. width: 16.75 in.
Montoya was born in Mexico City on July 9th, 1905, son of Adolfo Montoya and Concepción Carranco. He died at the age of 98 in Mexico City on July 12th, 2003. His iconic works include paintings and sculptures of children in traditional regional costumes from Mexico.
---
We Also Recommend