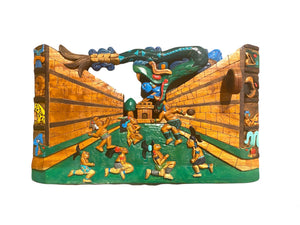 Pok-ta-Pok Mayan Ball Court
Detailed Folk Art - Carved Wooden "Pok-ta-Pok Mayan Ball Court". Excellent quality design, hand carved by Mexican artisans from Chiapas, Mexico.
Made with Cedar Wood. Weight: 15 lb., Height: 16 in., Length: 28 in., Width: 6 in.
Exact replica of the ball game of the pre-Columbian Mayan era that brings the Mayan calendar and the snake symbol of health and fortune. The ball game, better known as "Pokolpok" by the Mayans, is considered an antecedent of soccer, as it is one of the oldest team sports in the world.
This game consisted of forming two teams of approximately 7 members where the main objective was to pass the ball through the hoops that made up the court, as long as the ball was only manipulated by the extremities of the body allowed in the rules of said game, as are the hips, shoulders, and elbows.
The ball they played with was made by themselves from natural ingredients from a tree that transformed it into rubber.

---
We Also Recommend