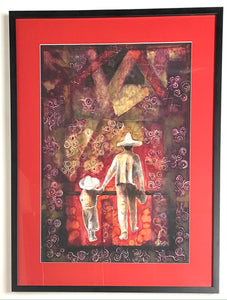 Charro Father and Son
Beatriz Loreto Pineda. Charro Father and Son. Hand Painted Mexican Folk Art on Amate Paper. Oaxaca, Mexico. Signed by the artist. 
Medium: Amate Paper Ink and Acrylic
Paint. Size: 33 x 25 1/4inches. Framed and Acrylic Plexiglass.
PINEDA LARA, was born in the south of Chile in the town of Lota, in 1961. Her basic education studies, up to university studies, were carried out in the city of Santiago. Until in 1996 she obtained a Scholarship granted by the Ministry of Foreign Affairs of the Government of Mexico, which allows her to do a Master in Visual Arts, at the National Autonomous University of Mexico. In 2002, she decided to settle for the second time in Mexico, in the city of Oaxaca, for 7 years she dedicated herself to teaching and painting. She traveled to Chile in 2009, in those three years of permanence he made two individual exhibitions in Museums of the Coquimbo Region. In 2012 and 2014 she traveled to Mexico, to make an artistic residency in the city of Oaxaca and to teach some Art Workshops. She currently resides in the city of Valdivia, Chile.
---
We Also Recommend