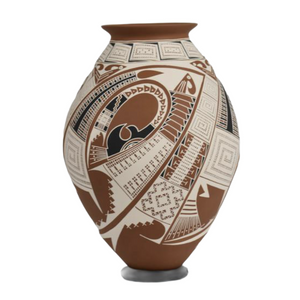 Antonio Sandoval Trevizo Vase 3
Antonio Sandoval Trevizo Lace Vase, orange background, white and black, geometric designs. Weight: 4.4 lbs., height: 13.5 in., width: 9 in. Mata Ortiz, Chihuahua, Mexico.
Antonio Sandoval is a potter living and working in the village of Mata Ortiz in Chihuahua, Mexico. He's a self-taught artist who has been doing pottery for the last 20 years.


---
We Also Recommend