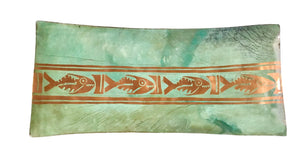 Copper Platter - Fish Design
Eduardo Reyes. Pre Columbian Copper Platter - Fish Design. Chile.
Weight: 2 lbs., height: 2 in., length: 16 in., width: 10 in.
Medium: Copper.
Eduardo's pieces are influenced by cave paintings found in Chile and by pre-columbian cultures from Latin America. He is also known for using the patina oxidation technique that gives his pieces a vibrant green color. Reyes has been working for more than 20 years in the Region of Los Lagos. His pieces have been in expositions all over the world and have been awarded numerous times such as in 1997 when he received the Unesco Picasso medal.
---
We Also Recommend