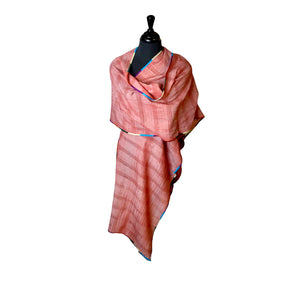 Authentic Mexican Handwoven Red Shawl
Los Baules de Juana Cata. Authentic Mexican Handwoven Red Shawl. Oaxaca, Mexico.
Size: One Size. Handwoven fabric.
100% Handwoven fabric. 
3 ft. length x 6 ft. across body.
Los Baúles de Juana Cata (aka Remigio's), as this shop is usually known, is all-time favorite ethnic clothing shop and, the best source for magnificent Oaxacan huipiles and rebozos (shawls). The formal name of the store refers to the multiple trunks (baules) in which owner Remigio Mestas stores and displays his extensive stock. Remigio works with weavers in Oaxacan villages to sustain the use of natural dyes, preserve traditional weaving techniques, especially the use of pre-Hispanic back-strap looms, and encourage both old and new designs. He carries a huge selection of ethnic clothing, both traditional and traditionally-inspired, from all parts of the state. None of this comes cheap, but the textiles are exquisite and unique.
---
We Also Recommend